As we near the launch of the book called: "The Only Business Book You'll Ever Need", the second book collaboration I have been invited to participate in, I'm pleased to be able to reveal to you its book cover (pictured below). This book covers the skills necessary to become successful – whether you are selling products, services, or a derivative of both and topics include among other topics the following:
– Ways to build a business
– Use of Social Media
– Planning & Strategies for Businesses
– Brands & Branding
– Determination, Motivation & Commitment
– Advertising in the New Economy
– Mindset & Passion
– The importance of ethics in business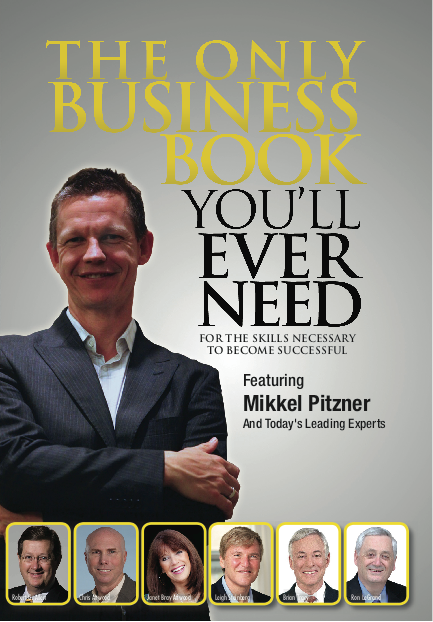 As you can see from the cover the book features a number of very high profile and interesting authors including Robert G. Allen, who is famous not least for his multi-bestselling books including "Nothing Down", "Multiple Streams Of Income", "Multiple Streams Of Internet Income", "One Minute Millionaire", "Cash In A Flash", "Creating Wealth", Chris Atwood & Janet Bray Atwood, authors of "The Passion Test: The Effortless Path To Discovering Your Destiny" and The Passion Test program, Leigh Steinberg, who is especially famous for being the person that the film Jerry Maguire that starred Tom Cruise and co-starred Cuba Gooding Jr. and Renée Zellweger was based on, Brian Tracy, great mentor and author of 50 books including "Maximum Achievement", "No Excuses", "Eat That Frog",  "The Way To Wealth", "The Way To Wealth In Action", and Ron Legrand, author of "How To Be A Quick Turn Real Estate Millionaire: Make Fast Cash With No Money, Credit, Or Previous Experience", "Fast Cash With Quick-Turn Real Estate: How Anyone Can Quickly Turn Single Family Houses Into Cash" and more.
The full list of authors for this particular book collaboration include: Brian Tracy, John Souza, Mfon Ekpo, Esq., William R. Benner, Jr., Chuck Boyce, Bryan Sullivan, Christine Rae, Joe Rickards, Nick Berry, Pat Rigsby, Forest Hamilton, Mark Cole, Grace Daly, Bertrand McHenry, Abdoul Diallo, Ed Alfke, Larry Benet, William Kustka, CPA, CCPS, MBA, John Ledford, CFP, Nicholas Rodriguez, J.W. Dicks, Esq., Nick Nanton, Esq., Lindsay Dicks, Greg Rollett, Andre Voskuil, Gregory Herlean, Julie Guest, Cindy Speaker, Olga Rickards, Meny Hoffman, Kelly Borth, Erin T. Botsford, CFP, Greg Link, Karl R. Wolfe, Robert G. Allen, Janet Bray Attwood, Chris Attwood, Ron LeGrand, Mikkel Pitzner, Paul Edgewater and Leigh Steinberg
The book is scheduled to be launched March 8th 2012. If you want a reminder, please sign up for my newsletter and I will make sure you receive one via your email.
http://mikkelpitzner.com/wp-content/uploads/2012/02/The-Only-Business-Book-Youll-Ever-Need-cut.png
320
640
Mikkel Pitzner
http://mikkelpitzner.com/wp-content/uploads/2013/12/Pitzner-D-no-background-80x80.png
Mikkel Pitzner
2012-02-20 22:14:26
2012-02-20 22:16:42
Book Cover For The Only Business Book You'll Ever Need Revealed