I have met so many entrepreneurs all over the world who may or may not be successful in terms of results with their businesses, but whose lifestyles are not what I expect they set out to achieve.
Much too often I have met entrepreneurs who are over-worked and over-stressed. They are so busy at their businesses putting out fires left and right and because of how they are running their businesses and have set themselves up, way too much demand on their personal efforts is placed on them and thus their businesses end up sucking all their time and life out of them. Other important areas of their lives are put on a stand by position, which usually means that relationships with spouses and children suffer greatly as do the states of their health.
A typical example of this type of entrepreneur, and I bet many of you may recognize what I'm describing to you as well – either from others you have met or from looking in the mirror. That's right. You could be one of them. Are you?
The description would run something like this:
Male,
age 35-57
Red and watery eyes
Labored breathing
Somewhat overweight, and certainly no physical activities is taking place
Poor eating habit with poor food choices, typically due to having to just grab what's easily and readily available (need to get back to work)
Possibly smoking or possibly feel the need for one too many drinks
Working in excess of 10 hours a day, often weekends included
In a divorce situation or close to getting there
If the business is a partnership, then the partnership relations are probably not too great these days
Business could be doing reasonably, but often is not
Every work day seems to be an endless run around putting out fires and handling emergencies
Often stretched for cash
Feels the stress mounting
What was once fun and a dream has now turned sour and scary
On the verge of panic
OK, so the above picture may be the more dire version of the entrepreneur in mind, but you get the picture. There are unfortunately way too many of them exactly the way I described them above. In addition there are those on the way to getting to that point where things start to show serious signs of deterioration or warnings to same effect. Naturally the entrepreneur could as easily be a woman, although my personal experience tells me there is a fewer number of female entrepreneurs who have ended up quite at this stage.
Introducing The Plan For Success System
This program was born out of an interview that I gave to an accomplished fellow entrepreneur, Mr. Greg Rollett. The interview was based on my contribution to a book collaboration that I had the pleasure of being part of with other successful people, most notably Mr. Brian Tracy. Before long into the interview we decided to turn the material of the interview into a program, that eventually was titled: The Plan For Success System
During the many great conversations that I had with Mr. Greg Rollett, I felt more and more the urge to do something about this problem and wanted to see how I might best be able to help people out of such a state of business affairs or avoid it all together. And so that's how we ended up with this program.
Now I'm not going to tell you that this program will solve all your problems. Probably far from it. But what I have been astounded by is the fact that most of the entrepreneurs that I have met over the years who fit in the above category, also seem to lack some of the most basic skills and tools for having a chance at running their businesses successfully.
A major basic element of this, which I also hold central to the program and emphasize a lot is the need to build a budget, have regular profit and loss statements (also known as P&L statements) and as months go by during a business year to look at your forecasts. The P&L statements should be updated continuously and should be reviewed at least on a monthly basis. I'm surprised at just how many businesses pretty much don't have it or don't make regular use of it. Essentially as I call it, they are running their businesses blindfolded and come year end and the tax returns have to be made, then finally the CPA will take care of the reports and then finally the business owner discovers that all the hard work and stress resulted not in a profit they had hoped or possibly even thought it was going to do, but resulted in a loss – perhaps even a significant loss.
The program is made up of 4 modules:
Module 1: The Curse Of Running Your Business Blindfolded
Module 2: Running A Business Is Really Fundamental
Module 3: Creating Your Plan For Success
Module 4: Removing Yourself From Your Business
The program is delivered in electronic form (all downloads) and consists of the following:
An ebook
An action guide
4 CDs (downloads)
4 DVDs (downloads)
Q&A sessions (you will be able to post your questions to me and I will respond to them personally)
Allow me to walk through the package a little. The ebook and the audio recordings follow basically the same. The ebook is the transcribed version of the audio. Some minor edits and notes have been done in the written version. Some people prefer the audio over something they need to read and for others it may be opposite. Others again like to listen to the audio while following along in the ebook. The audio and the ebook contains the teachings of the system and the interview broken into 4 modules as listed above. They describe the problem and what you need to do about it for your business.
The Action Guide contains examples and exercises for you to go through that's going to help you better understand the problem and help you find your solution that is particular to your situation and your particular business. Now the Action Guide is one of the things I like the best about this program, for it is here that you really can get the power out of a program like this. The Action Guide alone make the program very powerful. This program is not something that is going to be terribly difficult for you at all. It is not and is not intended to be an all-encompassing program that will put everything in your life in place. It is, however, what could get you started on the right track getting over some hurdles or myths that you may have carried with you so far that are also hindering your success. There is no rocket science here. It is also not a quick fix solution to all your problems or your financial needs or challenges either. It is no get rich quick scheme. But it is amazing what even the simplest exercises can do for you, helping you get clear on what you need to do. There are action steps and questions and exercises there for you that will help you find the answers. It is often that the answers may be held in the simplest of forms, but we often need someone else to point them out to us. I'm hopeful that my program may do just that for you.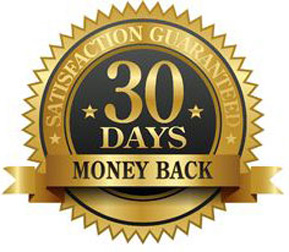 It is my intention that everybody who buys this program will see some noticeable results stemming from doing the work and implementing the actions outlined in the Action Guide that comes with the program and that everybody who buys the program sees value in the program. If you are not completely satisfied with the program I would love to receive your feedback so that I may be able to address and improve the experience for all buyers. However, you will not be obligated to submit your reasons nor feedback if you desire not to. This program will be covered by my 100% 30 Days Money Back Guaranteed. If you for some reason is not satisfied with the program you just let me know and your purchase price will be refunded. Requests for refunds must be received by me before the end of 30 days counting from your purchase date.
Important Disclaimer:
We don't believe in get rich quick programs – only in putting in the work required, adding value and serving others. This program is intended to help you become better at  running and understanding your business and help you get clear on what steps you need to take in order for your business to be less of a burden to run  for you. As stipulated by law, in promoting this and all our programs we use illustrative numbers only and we can not and do not make results guarantees or give professional or legal advice. That's why it's important that you read all of our terms and earnings disclaimers via the link below as you are not guaranteed to get results or earn an income. It's all the regular legal mumbo jumbo but we feel transparency is important and we hold ourselves (and you) to a high standard of integrity. That's why we also put our disclaimers on our checkout pages. Thanks for stopping by.