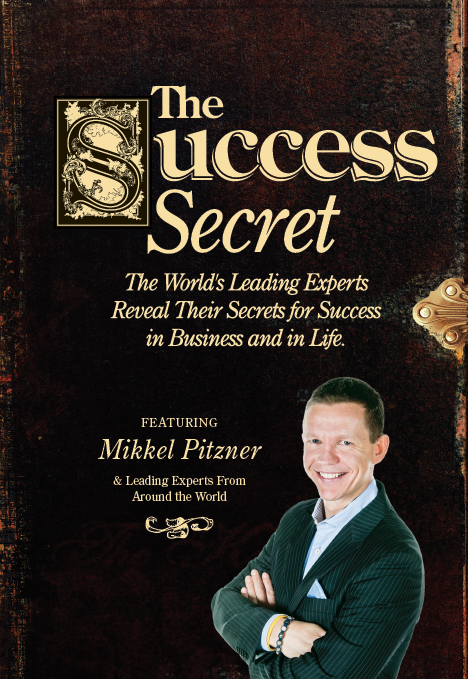 FOR IMMEDIATE RELEASE
Mikkel Pitzner, serial entrepreneur, business consultant, professional board member, multiple best-selling author, social media and branding expert and consultant, today announced that the newly released book collaboration with Jack Canfield and others, titled The Success Secret instantly made it to 7 best seller lists.
Ft. Lauderdale, Fla. – September 5th 2012 – Mikkel Pitzner, serial and multiple parallel entrepreneur, once again became a best-selling author. His newly released book collaboration "The Success Secret, The World's Leading Experts Reveal Their Secrets for Success in Business And in Life" made not just one best seller list but seven best seller lists in its first week after being released.
The book collaboration authored by a number of today's highly successful experts in different fields, including famed author Jack Canfield, who is particularly well known from his Chicken Soup For The Soul series and of course multiple parallel entrepreneur and best-selling author Mikkel Pitzner, shares great insights and stories of roads to success.
The book is meant to inspire and motivate the reader to move forward bad economy or not and inside the reader will find proven action steps that can attract abundance and bring fulfillment.
"All around there are people talking about the bad economy. But the fact of the matter is, that there are always opportunities present and possibilities open for you if you know how to seek them out. I'm committed to use my experience from running a multitude of companies over the years to help as many people as possible to move closer and eventually achieve their dreams, so I am offering my insights on an ongoing basis, so far via my personal website www.mikkelpitzner.com. I hope and think a lot of people are going to find it very valuable and more so, I'm hopeful that it will make a difference in people's lives", said Mikkel Pitzner.
Mikkel Pitzner's previous best-selling books are: "The Art And Science Of Success, Vol II" and "The Only Business Book You'll Ever Need". He has a few more book collaborations due for release later during this year.
You can find more information on Mikkel Pitzner's personal website, www.mikkelpitzner.com
About Mikkel Pitzner
Serial and Multiple Parallel Entrepreneur, professional board member in Denmark, Sweden and the US, social media expert and consultant, investor and dreamer extraordinaire.
Mikkel Pitzner previously ran the fourth largest car rental company in Denmark and also owned and ran the largest limousine service company also in Denmark. He has founded and run a distribution company in Denmark for a very high end American manufactured scuba diving product line.
Mikkel Pitzner is currently a Partner of unique marketing and trailer rental company, Freetrailer, which currently operates throughout Denmark and Sweden with more countries to come. He is the Partner in a company that finds that special gimmick or solution corporations need for their marketing and campaign purposes. In addition to aiding a select list of clients with their branding and online presences and marketing, including their social media strategies, he is establishing a number of new companies and activities. One of the new activities include making savings available to everybody on their daily purchases and offering additional income stream possibilities.
Mikkel is also a best-selling co-author of the business book, The Only Business Book You'll Ever Need and also of The Art and Science of Success, Volume 2. The Success Secret, The World's Leading Experts Reveal Their Secrets For Success In Business and in Life, is Mikkel Pitzner's third book. Three more books from Mikkel Pitzner are due for release this fall.
For more information on Mikkel Pitzner, his activities and what he can offer you, go to www.mikkelpitzner.com