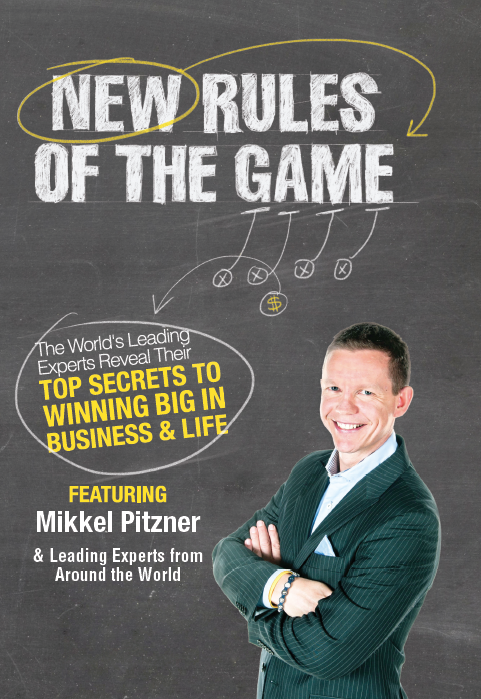 New book titled "The New Rules Of The Game" is being released today. A tagline which has been used for the book states the promising words: "Discover the Systems for Success in the 21st Century!"
"The world is changing swiftly and although some of the good old rules for success still hold true, you will find that some of the old rules for prosperity and personal fulfillment just don't cut it anymore. There are new tools and new fast tracks to success these days. That's why it's time to learn the New Rules of the Game", said Mikkel Pitzner about the release of the new book.
In this book, Robert G. Allen, internationally renowned investment guru and author of the New York Times best-seller "Multiple Streams of Income" brings together today's leading experts to share their breakthrough secrets for success. Among those experts is Mikkel Pitzner, a serial and multiple parrallel entrepreneur, who actually just put out another book collaboration last month titled Marketing Miracles which was co-authored with the famous marketeer Dan Kennedy. Mikkel Pitzner is himself leading a change of the ways he is heading up his marketing for many of his endeavors and for many of the companies and activities he is consulting for.
Robert Allen and Mikkel Pitzner are flanked by Dave VanHoose who has twice built up fast growing companies inclduing one that landed at the INC 35 spot. Dave VanHoose is today recognized as being one of the country's top speaker trainer and together with his team which includes among others Dustin Mathews, who is also featured in the book and who is known as quite a marketing wizard, they are famed for crafting some of the best sales converting presentations for companies and individuals including celebrities.
These acclaimed thought leaders have gathered together here along with a few more for the first time to reveal their innovative and dynamic cutting-edge strategies. Strategies designed to help you reach your most cherished personal and professional goals.
"There's no denying that the world's power and economic structures have changed forever, or that too many are clinging to outmoded tactics and techniques that are well past their expiration dates. This is the moment to take advantage of this book's powerful ideas and leap ahead of the competition. This is the moment to realize the potential of your life and dare to achieve your dreams. This is the moment to stop looking to the past and instead embrace the future", said a statement from CelebrityPressPublishing who is the publisher of the book collaboration.
The book is released today and is available from www.amazon.com