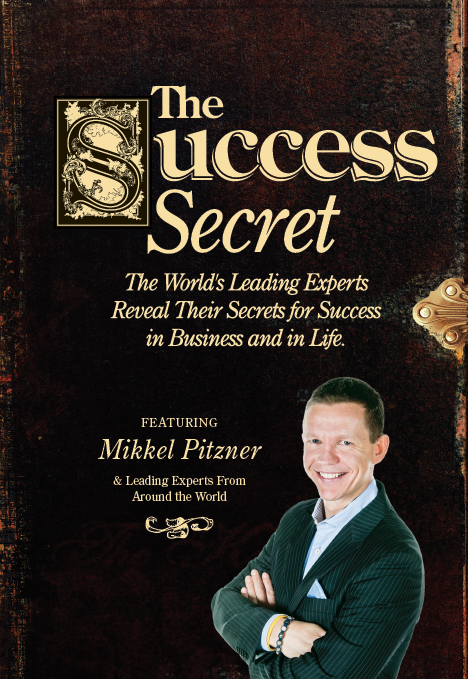 FOR IMMEDIATE RELEASE
Mikkel Pitzner, serial entrepreneur, business consultant, professional board member, multiple best-selling author, social media and branding expert and consultant, today announced the release of the new book collaboration with Jack Canfield and others
Ft. Lauderdale, Fla. – August 23rd 2012 – Mikkel Pitzner, serial and multiple parallel entrepreneur, best-selling author and speaker, released information of the book launch today. The book titled "The Success Secret, The World's Leading Experts Reveal Their Secrets for Success in Business And in Life" is being released today on Amazon.
The book collaboration authored by a number of today's highly successful experts in different fields, including famed author Jack Canfield, who is particularly well known from his Chicken Soup For The Soul series and multiple parallel entrepreneur and best-selling author Mikkel Pitzner, shares great insights and stories of roads to success.
The book is meant to inspire and motivate the reader to move forward bad economy or not and inside the reader will find proven action steps that can attract abundance and bring fulfillment.
As part of the promotional efforts in conjunction with the release of the book, a number of the authors have put together a great deal of bonuses for anyone who purchases the book today on Amazon.com.
"It is every authors wish to bring value to their readers. With the extra bonus package that has been put together the reader is assured to find useful information and value on top of the valuable insights that are shared in the book", said Mikkel Pitzner.
To assure receipt of the bonus package, readers must purchase the book today on its launch date and then send the receipt to bonus@celebritypresspublishing.com
You can find more information on Mikkel Pitzner's personal website, www.mikkelpitzner.com
About Mikkel Pitzner
Serial Entrepreneur, professional board member in Denmark, Sweden and the US, social media expert and consultant, investor and dreamer extraordinaire, Mikkel Pitzner is a Partner of unique marketing and trailer rental company, Freetrailer, which currently operates throughout Denmark and Sweden with more countries to come. He is the Partner in a company that finds that special gimmick or solution corporations need for their marketing and campaign purposes. Mikkel is also a best-selling co-author of the business book, The Only Business Book You'll Ever Need and also of The Art and Science of Success, Volume 2. The Success Secret, The World's Leading Experts Reveal Their Secrets For Success In Business and in Life, is Mikkel Pitzner's third book. Two more books from Mikkel Pitzner are due for release this fall.
For more information on Mikkel Pitzner, his activities and what he can offer you, go to www.mikkelpitzner.com